The Santa Clara Law faculty continue to earn national recognition for the scholarship that members of the faculty publish on a variety of issues of critical importance. The recent U.S. News and World Report ranking of law schools ranked the Santa Clara Law faculty 78th of 192 law faculties by academic peer reputation. Santa Clara Law also recently tied for 58th place (along with Boston College, the University of Florida, the University of Georgia, the University of Iowa, and the University of Houston) on a widely-cited "Scholarly Impact of Law School Faculties" ranking. In the last few years, Santa Clara Law faculty have been extremely active in publishing books with leading academic presses. Books by Professors "Deep" Gulasekaram, Kerry Macintosh, Michelle Oberman, David Sloss, and Gary Spitko are profiled below.
---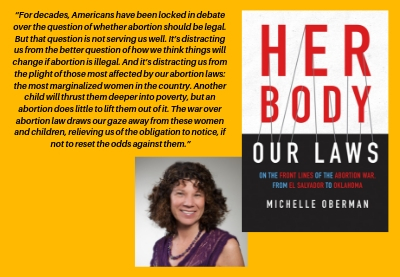 Drawing on years of research in El Salvador—one of the few countries to ban abortion without exception—Professor Michelle Oberman explores what happens when abortion is a crime. She reveals the practical challenges raised by a thriving black market in abortion drugs, as well as the legal challenges to law enforcement. Equipped with this understanding, Oberman turns her attention to the U.S., where the battle over abortion is fought almost exclusively in legislatures and courtrooms. By highlighting the factors that lead women to seek an abortion and the ways in which the law already shapes women's responses to unplanned pregnancy, Oberman prepares the reader to think critically about what will and won't happen as the Supreme Court inches toward effectively or formally allowing states to ban abortion.
---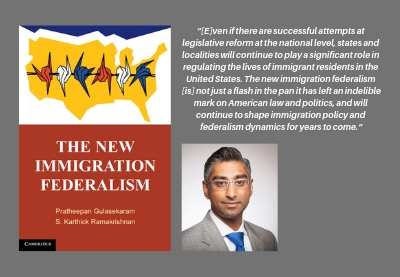 In The New Immigration Federalism, Professor Gulasekaram and his co-author provide an in-depth empirical, doctrinal, and theoretical assessment of the unprecedented rise and proliferation of state and local laws dealing with unauthorized immigrants starting in the mid-2000s and typified by Arizona's notorious immigration enforcement law, SB 1070. The book situates the current era of state and local immigration lawmaking in historical context, seeking to determine its causes, and its consequences for the constitutional balance of power on immigration federalism concerns. In doing so, the book refutes popular demographic and public policy "necessity" arguments offered by anti-immigrant activists to justify increased state and local enforcement measures. Instead, the book shows that a highly partisan process, trading on political polarization and ethnic nationalism, combined to produce restrictionist state and local locals. Looking to the future the book argues that immigrant advocates might adopt similar strategies to proliferate integrationist state and local policies.
---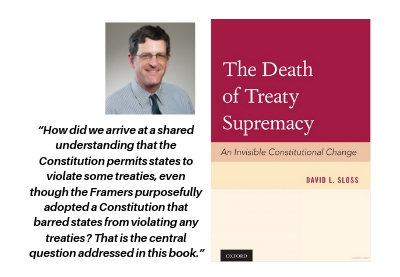 This book provides the first detailed history of the Constitution's treaty supremacy rule. It describes a process of invisible constitutional change, which I call the "de facto Bricker Amendment." The traditional treaty supremacy rule prevailed from the Founding until World War II; it provided that all treaties supersede conflicting state laws. The rule precluded state governments from violating U.S. treaty obligations. The de facto Bricker Amendment, which emerged between 1945 and 1965, created a novel exception to the treaty supremacy rule that permits state governments to violate some treaties without authorization from the federal political branches. The death of treaty supremacy has significant implications for U.S. foreign policy and for U.S. compliance with its treaty obligations.
---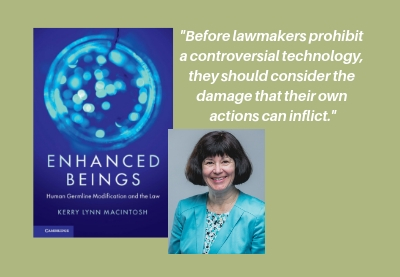 In Enhanced Beings: Human Germline Modification and the Law, Professor Kerry Macintosh discusses genome editing and its application to human gametes and embryos. Although this technology is not yet safe for reproductive use, she recognizes that it may eventually allow parents to have children who are free of disease or possess enhanced traits. Professor Macintosh critiques common objections to the technology and examines their psychological origins and consequences. She describes existing federal and state laws that impact the technology and weighs the odds that legislators will enact bans in the future. She argues that bans will harm scientists and science, parents, children, foreigners, and society.
---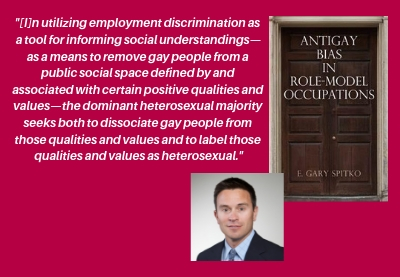 In Antigay Bias in Role-Model Occupations, E. Gary Spitko argues that widespread and frequently systematic employment discrimination has been excluding gay people from the public social spaces that identify and teach whom society respects and whom members of society should seek to emulate. Creating a typology of role models—lawyers/judges, soldiers, teachers, politicians, professional athletes, and clergy—and the positive values and character traits associated with them, Spitko demonstrates how employment discrimination has been used for the purpose of perpetuating the notion that gay people are inferior because they do not possess the requisite qualities—integrity, appropriate masculinity, morality, representativeness, all-American-ness, and blessedness—associated with employment in these occupations.