The 2012 Santa Clara Journal of International Law Symposium
Emerging Issues in International Humanitarian Law
Friday, February 3 and Saturday, February 4, 2012
Mission Room, Bensen Center, Santa Clara University
HOSTED BY:
Santa Clara University School of Law
Santa Clara Journal of International Law
Center for Global Law & Policy
---
Keynote Speaker: Louise Doswald-Beck
Professor Doswald-Beck is a Professor of the Graduate Institute of International Studies and the Geneva Academy of International Humanitarian Law and Human Rights.
Professor Doswald-Beck was formerly the Director of the University Centre for International Humanitarian Law (CUDIH), from 2003-2007, and was Secretary General of the International Commission of Jurists (2001-2003). She was a legal adviser at the International Committee of the Red Cross (ICRC) from 1987 and became Head of the Legal pision in 1998. She began her career as a lecturer in Law at Exeter university and then London University.
During the 1990s, Louise Doswald-Beck played an important role in the campaign to establish the International Criminal Court (ICC) and participated in the negotiations on the Rome Statute. In particular, she had a major role in negotiations that led to the establishment of: the ICC's Elements of Crimes, Protocols II (amended) and IV of the Convention on Certain Conventional Weapons, the Ottawa Convention on Anti-Personnel Landmines, Protocol II of the Hague Convention on Cultural Property, and the San Remo Manual on armed conflicts at sea.
Professor Doswald-Beck has written extensively on subjects relating to the use of force, and humanitarian law and human rights law, including the ICRC's study on customary international humanitarian law (2005) for which she was awarded the Ciardi Prize at the time of the XVIIth Congress of the International Society for Military Law and the Law of War, in 2006.
Areas of expertise
Professor Doswald-Beck's research emphasis has been on the relationship between international humanitarian law and international human rights law.
Selected publications
Books
Human Rights in Times of Conflict and Terrorism, OUP, 2011
Customary International Humanitarian Law, Vol I: Rules, co-authored with Jean-Marie, Henckearts CUP 2005, 621pp; Vol.II: Practice, co-edited with Jean-Marie Henckaerts, CUP, 411pp, 2005.
Garanties judiciaries et droits de l'homme, Nations Unies, Systèmes européen, américan et African: textes et resumés de la jurisprudence internationale; co-authored with Robert Kolb, Engel, 468pp, 2004.
Judicial Process and Human Rights: United Nations, European, American and African systems: texts and summaries of international case-law, co-authored with Robert Kolb, Engel, 465pp, 2004.
Commentary to the Elements of War Crimes under the ICC Statute, (co-authored with K. Doermann and Robert Kolb), Cambridge University Press, Cambridge, 2002.
San Remo Manual on International Law Applicable to Armed Conflicts at Sea (edited and partly authored text and Commentary), Cambridge University Press,1995.
Blinding Weapons: Report of the Meeting of Experts Convened by the International Committee of the Red Cross on Battlefield Laser Weapons, International Committee of the Red Cross, 1993.
Selected Articles
'The right to life in armed conflict: does international humanitarian law provide all the answers?' International Review of the Red Cross, Vol.88, No. 864, December 2006.
'Private Military Companies under International Humanitarian Law': Chapter 7 in From Mercenaries to Market: The Rise and Regulation of Private Military Companies, Simon Chesterman and Chia Lehnardt (eds.), OUP, (2007).
'Developments in Customary International Humanitarian Law', Swiss Review for International and European Law, 3/2005, pp.471-498, 2005.
'Human rights and humanitarian law: are some inpiduals bereft of all legal protection?' ASIL Proc.2004 , pp. 353-358, 2004.
'The Protection of Medical Aircraft in International Law', in Israel Yearbook on Human Rights vol. 27, 1998.
'International Humanitarian Law and the Advisory Opinion of the International Court of Justice on the Threat or Use of Nuclear Weapons', in International Review of the Red Cross, January/February, 1997.
'Vessels, Aircraft and Persons Entitled to Protection during Armed Conflicts at Sea', British Yearbook of International Law, 1994.
Fellowship and activities
Member of the International Commission of Jurists
Member of the Executive Committee of the Lieber Society
Member of the Human Rights Interest Group of the American Society of international Law
---
Speaker Bios
Kenneth Anderson
Kenneth Anderson is professor of law at American University Washington College of Law, in Washington, D.C. He teaches and writes in the areas of business and finance, both domestic and international; law and economics; and public international law, international organizations, human rights, and the laws of war. His current research agenda for 2010-11 focuses on targeted killing and drone warfare in armed conflict, and robotics and the law generally; global governance, global civil society and legitimacy; financial regulation reform (with Steven L. Schwarcz); and concept of proportionality in the law of war, the philosophy of value, and cost-benefit analysis. Professor Anderson's book on UN-US relations, Returning to Earth: What Multilateral Engagement Means in UN-US Relations, will appear in 2011 from The Hoover Institution Press; and together with Duke University's Steven L. Schwarcz, he is at work on "Reforming Financial Regulation" for Oxford University Press. Editorial board member of the Journal of Terrorism and Political Violence and political sciences advisory editor to the Revista de Libros (Madrid), Professor Anderson actively blogs at the Volokh Conspiracy and the international law blog Opinio Juris. He is a contributor to the Times Literary Supplement, Revista de Libros, Wall Street Journal, Weekly Standard, New York Times Magazine, Financial Times, Policy Review, and other general interest reviews. Professor Anderson was a visiting professor at the University of Virginia School of Law in Spring 2011.
---
Mariano Baños
Mariano Baños is an Attorney Adviser at the US Department of State's Office of the Legal Adviser. During his time at "L" he has worked on a variety of portfolios, including international humanitarian and human rights law. Prior to the State Department, Mariano clerked for Judge Baltasar Garzón and worked at McKinsey and Company. He graduated from Yale in 1999 and received his JD from New York University School of Law in 2005.
---
Johanna Bond
Johanna Bond joined Washington and Lee as an Associate Professor of Law in 2008. Professor Bond's teaching and scholarship focuses on international human rights law and gender and the law. In 2001, Professor Bond was selected as a Senior Fulbright Scholar and traveled to Uganda and Tanzania to conduct research that later resulted in her edited book, Voices of African Women: Women's Rights in Ghana, Uganda, and Tanzania.
Before coming to W&L, Professor Bond was an Associate Professor of Law at the University of Wyoming and before that a Visiting Associate Professor of Law at Georgetown University Law Center for several years. She also served as the Executive Director of the Women's Law and Public Policy Fellowship Program, a non-profit organization housed at Georgetown.
Professor Bond's human rights experience includes substantial travel and collaboration with non-governmental organizations around the world, including attending the 1995 Fourth World Conference on Women in Beijing. Her research, fact-finding documentation work, and publications have dealt with a number of issues, including: women's rights in Africa; domestic violence in Nepal, Cambodia, Ghana, Poland, Bulgaria and Macedonia; sexual harassment in Poland and Bulgaria; maternal mortality as a human rights issue in Uganda and Mexico; trafficking in women; and a variety of issues concerning the United Nations treaty mechanisms.
Before beginning her teaching career, Professor Bond was a law clerk for the Honorable Ann D. Montgomery, United States District Court, District of Minnesota from 1997 – 1998. Professor Bond holds a B.A. from Colorado College, a J.D. from the University of Minnesota Law School and an LL.M from Georgetown University Law Center.
---
Geoffery S. Corn
Geoffery S. Corn is a Professor of Law at South Texas College of Law in Houston Texas, and a retired U.S. Army Lieutenant Colonel. His last position with the Army was as the Special Assistant to the US Army Judge Advocate General for Law of War Matters – the Army's senior law of war expert advisor. Other Army assignments included tactical intelligence officer, supervisory defense counsel for the Western United States; Chief of International Law for US Army Europe; Professor of International and National Security Law at the US Army Judge Advocate General's School, and Chief Prosecutor for the 101st Airborne pision. Professor Corn's publications focus on the Law of Armed Conflict, National Security Law, Criminal Procedure, and Criminal Ethics. He is the lead author of The Laws of War and the War on Terror, published by Oxford University Press, a co-author of Principles of Counter-Terrorism Law published by Thompson-West, and the lead author of the textbook The Law of Armed Conflict: An Operational Perspective, forthcoming with Aspen Publishers. He has published more than 30 articles and essays. He is a graduate of Hartwick College in Oneonta, New York, the George Washington University School of Law, and the Army Judge Advocate General's School, where he earned his LL.M. and was the distinguished graduate. His military education includes the U.S. Army Command and General Staff College, the JAG and Military Intelligence Officers Basic and Advanced Courses, and the U.S. Army Officer Candidate School.
---
Ashley Deeks
Ashley Deeks is an Academic Fellow at Columbia Law School. Before joining Columbia in 2010, she served as the Assistant Legal Adviser for Political-Military Affairs in the U.S. Department of State's Office of the Legal Adviser, where she worked on issues related to the law of armed conflict, the use of force, conventional weapons, and the legal framework for the conflict with al Qaeda. She also provided advice on intelligence issues. In previous positions at the State Department, Ms. Deeks advised on international law enforcement, extradition, and diplomatic property questions. From May to December 2005, she served as the Embassy Legal Adviser at the U.S. Embassy in Baghdad, during Iraq's constitutional negotiations. She received several State Department Superior and Meritorious Service Awards.
Ashley Deeks was a 2007-08 Council on Foreign Relations International Affairs Fellow and a Visiting Fellow in residence at the Center for Strategic and International Studies. During her fellowship, she explored the different approaches by the United States and European states to armed conflict and the laws of war, as well as issues related to detention, cluster munitions, and the use of diplomatic assurances. She also authored a Council Special Report entitled, "Avoiding Transfers to Torture."
She has written several articles on the Iraqi constitution, administrative detention, and the laws of war. Deeks received her B.A. magna cum laude from Williams College and her J.D. with honors from the University of Chicago Law School. After graduating from law school, she clerked for Judge Edward Becker on the Court of Appeals for the Third Circuit.
---
Mark A. Drumbl
Mark Drumbl is the Class of 1975 Alumni Professor at Washington & Lee University, School of Law, where he also serves as Director of the University's Transnational Law Institute. He has held visiting appointments on the law faculties of Oxford University (University College), Université de Paris II (Panthéon-Assas), Vanderbilt University, University of Ottawa, Trinity College-Dublin, University of Western Ontario, and University of Illinois College of Law. In 2010, Professor Drumbl was appointed Visiting Scholar and Senior Fellow, at the University of Melbourne, Faculty of Law; Visiting Professor, Centre for Applied Philosophy and Ethics (Charles Sturt University/Australian National University) and Parsons Visitor, Faculty of Law, University of Sydney.
Professor Drumbl's research and teaching interests include public international law, global environmental governance, international criminal law, postconflict justice, transnational legal process, and contracts. His current scholarly project examines the challenges in reintegrating child soldiers who have been implicated in acts of mass atrocity. This book, entitled Reimagining Child Soldiers in International Law and Policy, is under contract with Oxford University Press and will be published early in 2012. It involves considerable use of ethnographic and quantitative research, and suggests a variety of reforms to international law and human rights policy in light of that largely underappreciated evidence. Professor Drumbl's work has been relied upon by the Supreme Court of Canada, the United Kingdom High Court, and the Supreme Court of New York in recent decisions.
Prior to entering law teaching, Professor Drumbl was judicial clerk to Justice Frank Iacobucci of the Supreme Court of Canada. His practice experience includes international arbitration, commercial litigation, and he was appointed co-counsel for the Canadian Chief-of-Defense-Staff before the Royal Commission investigating military wrongdoing in the UN Somalia Mission. Professor Drumbl has served as an expert in ATCA litigation in the U.S. federal courts (expert for the successful plaintiffs in Almog v. Arab Bank, 2007 WL 214433 (E.D.N.Y., 2007)) and in U.S. immigration court, as defense counsel in the Rwandan genocide trials, has consulted with various organizations, and has taught international law in Pakistan, Finland, Uganda, The Netherlands, Italy, and Brazil. Prior to joining Washington & Lee, he served on the faculties of Columbia University, School of Law, as Associate-in-Law, and the University of Arkansas-Little Rock.
---
David Glazier
Dave Glazier is a professor of law and the Lloyd Tevis Fellow at Loyola Law School Los Angeles where he currently teaches International Law, International Criminal Law, and the Law of War. His scholarship focuses on law of war issues in the so-called "War on Terror," with particular emphasis on the current and historical use of military commissions. Prior to joining Loyola Law School, he was a lecturer at the University of Virginia School of Law and a research fellow at the Center for National Security Law, where he conducted research on national security, military justice and the law of war.
Dave served twenty-one years as a US Navy surface warfare officer before retiring to attend law school. During his naval service he commanded a guided missile frigate, the USS George Philip, served as the Seventh Fleet staff officer responsible for the US Navy-Japan relationship, the Pacific Fleet officer responsible for the US Navy-PRC relationship, and participated in UN sanctions enforcement against the former Yugoslavia and Haiti.
He earned his JD from the University of Virginia School of Law where he served on the editorial boards of the Virginia Law Review and the Virginia Journal of International Law; founded Virginia Law Veterans, and co-founded Virginia Law Families.
Dave also earned an MA from Georgetown University in government/national security studies, a diploma from the Naval War College, and a BA in history from Amherst College. He was admitted to the Virginia bar in 2004.
---
Kyle Graham
Professor Kyle Graham is well-known for his research and has been published in numerous scholarly journals. Prior to joining the Santa Clara University School of Law faculty in 2009, he worked as deputy district attorney in Mono County, California. Other previous appointments include working as a staff attorney for Associate Justice Carlos Moreno of the California Supreme Court and working as an associate with the law firm of Gibson, Dunn & Crutcher LLP. He also served as a law clerk for the United States District Judge William Alsup.
---
Oren Gross
Oren Gross is the Irving Younger Professor of Law and the Director of the Institute for International Legal & Security Studies at the University of Minnesota Law School. He is an internationally recognized expert in the areas of international law and national security law. He is also an expert on the Middle East and the Arab-Israeli conflict.
Professor Gross holds an LL.B. degree (magna cum laude) from Tel Aviv University, where he served on the editorial board of the Tel Aviv University Law Review. He obtained LL.M. and S.J.D. degrees from Harvard Law School while a Fulbright Scholar.
Professor Gross was a member of the faculty of the Tel Aviv University Law School in Israel from 1996 to 2002. He also has taught and held visiting positions at Princeton University; the Institute for Advanced Studies at the Hebrew University of Jerusalem; Benjamin N. Cardozo School of Law; the Max Planck Institute for International Law and Comparative Public Law in Heidelberg, Germany; the Transitional Justice Institute in Belfast (while a British Academy visiting professor); Queen's University in Belfast; the University of Santiago de Compostela (Spain) and Brandeis University. He has received numerous academic awards and scholarships, including a Fulbright scholarship and British Academy and British Council awards.
Between 1986 and 1991, Professor Gross served as a senior legal advisory officer in the international law branch of the Israeli Defense Forces' Judge Advocate General's Corps. In 1998, he served as the legal adviser to an Israeli delegation that negotiated an agreement with the Palestinian Authority's senior officials concerning the economic component of a permanent status agreement between Israel and Palestine.
Professor Gross's work has been published extensively. His articles appeared in leading academic journals such as the Yale Law Journal, Yale Journal of International Law, Michigan Journal of International Law, Minnesota Law Review, and Cardozo Law Review. His book, Law in Times of Crisis: Emergency Powers in Theory and Practice, co-authored with Professor Fionnuala Ní Aoláin, was published by Cambridge University Press in 2006 and was awarded the prestigious Certificate of Merit for Preeminent Contribution to Creative Scholarship by the American Society of International Law in 2007.
Professor Gross joined the University of Minnesota in 2002 and was appointed the Vance K. Opperman Research Scholar in 2003 and the Julius E. Davis Professor of Law in 2004. He was appointed as the Irving Younger Professor of Law in 2005.
Professor Gross practiced law at Sullivan and Cromwell (New York) and is a member of both the New York and Israeli bars. In 2008 he was elected as a member of the American Law Institute (ALI).
---
Dina Francesca Haynes
Dina Francesca Haynes is a Professor of Law at New England Law | Boston, where she teaches courses related to international law, immigration, refugee and asylum law, international women's issues, human trafficking and Constitutional law. She has also taught at Georgetown University Law Center and American University's Washington College of Law. Prior to teaching law, she spent a decade practicing international law, including such positions as Director General of the Human Rights Department for the Organization for Security and Cooperation in Europe (Bosnia-Herzegovina) and Human Rights Advisor to the OSCE (Serbia). She has also worked for the United Nations, serving as a Protection Officer with the United Nations High Commissioner for Refugees (Croatia) and has received positions with the Office of the High Commissioner for Human Rights (Rwanda and Afghanistan). Professor Haynes was also an attorney for the United States Department of Justice and clerked on the Constitutional Court of South Africa. She researches and writes in the areas of human trafficking, labor exploitation, immigration, human rights, post conflict reconstruction, international organizations, women's rights, humanitarian law, and migration. Her books include Deconstructing the Reconstruction and On the Frontlines, both on the topic of human rights in the post conflict reconstruction process.
---
Kristine Huskey
Kristine Huskey is the Director of the Anti-Torture Program at Physicians for Human Rights (PHR) in Washington, D.C., where she leads PHR's investigations and reporting on the consequences of torture on inpiduals, institutions and society, as well as PHR's advocacy for strengthening anti-torture policy and practice in the U.S. and globally. Ms. Huskey is also an adjunct professor at Georgetown University Law Center where she teaches a national security course.
Most recently, Ms. Huskey was a clinical professor and the Director of the National Security Clinic, which she established, at the University of Texas School of Law. She is the author of Justice at Guantánamo: One Woman's Odyssey and Her Crusade for Human Rights, a memoir chronicling her experiences representing detainees. She has represented numerous inpiduals detained at Guantánamo, including Omar Khadr—the young Canadian—and a group of Kuwaiti citizens in the seminal Rasul v. Bush case, in which the U.S. Supreme Court held in 2004 that the Guantánamo detainees have a right to challenge their detentions. She has been to Guantanamo over a dozen times and has frequently appeared in the media to discuss Guantanamo and war on terrorism issues. She is a contributing author to One of the Guys: Women as Aggressors and Torturers, as well as The Guantánamo Lawyers: Inside a Prison Outside the Law. For her work in national security and human rights, she was featured as a "Woman to Watch" in Marie Claire magazine (Dec. 2006), profiled in Texas Lawyer and Turning Wheel, and was the subject of "Working Women" on ABC News.
Ms. Huskey has taught international human rights and humanitarian law and national security law at the University of Texas School of Law, George Washington Law School, Howard University Law School, Washington College of Law at American University, and Victoria University Law School in Wellington, New Zealand. Previously, she practiced international litigation and arbitration at Shearman & Sterling LLP in Washington, D.C. She received her B.A. at Columbia University (Phi Beta Kappa and magna cum laude) and her J.D. at The University of Texas School of Law.
---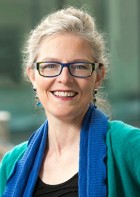 Kate Jastram
Kate Jastram is a Lecturer in Residence and Senior Fellow at the Miller Institute for Global Challenges and the Law at Berkeley Law. She joined the faculty in 2002, after serving as a legal advisor to the United Nations High Commissioner for Refugees from 1991 to 2001 in Geneva and in Washington, D.C. Following graduation from Boalt, she practiced immigration and nationality law in San Francisco and directed a pro bono asylum program in Minneapolis.
Her current research, supported by the Social Sciences and Humanities Research Council of Canada, is a comparative examination of War Crimes and Refugee Status, and the use of international humanitarian law and international criminal law in asylum adjudication. Her recent work includes "Economic Harm as a Basis for Refugee Status and the Application of Human Rights Law to the Interpretation of Economic Persecution," a chapter in Critical Issues in International Refugee Law (J. Simeon, ed., Cambridge University Press, 2010).
Jastram is on the Executive Committee of the American Society of International Law's Lieber Society; is an associate rapporteur of the Human Rights Nexus Working Party for the International Association of Refugee Law Judges; and has served as an expert on asylum issues for the U.S. Commission on International Religious Freedom, an independent bi-partisan federal agency. She has taught at the International Institute for Humanitarian Law in Sanremo, and has worked on a variety of projects for UNHCR, ICRC, and IOM. She was a co-recipient of the Arthur C. Helton Human Rights Award in 2005, given by the American Immigration Lawyers Association in recognition of outstanding service in advancing the cause of human rights.
Jastram teaches courses in international humanitarian law, refugee law, global migration issues, national security and international protection, immigration law, and international human rights.
---
Gregory S. McNeal
Professor McNeal is an Associate Professor of Law and Public Policy at Pepperdine University. His research focuses on national security law and policy, transnational crime and international law. He previously co-directed a transnational counterterrorism program for the U.S. Department of Justice, and served as an advisor to the Chief Prosecutor of the Department of Defense Office of Military Commissions on matters related to the prosecution of suspected terrorists held in the detention facility in Guantanamo Bay, Cuba. His scholarship has been published by The Northwestern University Law Review, The Richmond Law Review, The DePaul Law Review, and various top ranked international law and policy journals. His co-edited book Saddam On Trial: Understanding and Debating the Iraqi High Tribunal was selected as a finalist for a Book of the Year Award and his forthcoming book which focuses on the Prosecution of Terrorism offenses will be published by Oxford University Press.
He recently served as a member of the drafting committee responsible for creating the U.S. military's first manual focused on preventing and mitigating harm to civilians in conflict. He is also is actively involved in his field of research, serving as a member of the ABA's Standing Committee on Law and National Security, and an Executive Committee Member of the AALS Section on National Security Law. He has testified before Congress, consulted with Congressional committees, the Iraqi High Tribunal, the Mexican Intelligence Services, NGOs and Fortune 500 companies. Before becoming an attorney he served as an officer in the U.S. Army.
---
Deborah Pearlstein
Deborah Pearlstein joined the Cardozo faculty following her tenure as an Associate Research Scholar in the Law and Public Affairs Program at the Woodrow Wilson School for Public and International Affairs at Princeton University, and visiting appointments at the University of Pennsylvania Law School and Georgetown University Law Center. Her research focuses on national security law and the separation of powers, and has appeared in journals including the Harvard Law Review, University of Pennsylvania Law Review, and Columbia Human Rights Law Review. From 2003-2007, Pearlstein served as the founding director of the Law and Security Program at Human Rights First, where she led the organization's efforts in research, litigation and advocacy surrounding U.S. detention and interrogation operations. Among other projects, Pearlstein led the organization's first monitoring mission to the U.S. Naval Base at Guantanamo Bay, Cuba; prepared a series of briefs amicus curiae to the U.S. Supreme Court; and co-authored multiple reports on the human rights impact of U.S. national security policy, including Command's Responsibility, which provided the first comprehensive accounting of detainee deaths in U.S. military custody since 2002 and received extensive media attention worldwide. Pearlstein also worked closely with members of the military and intelligence communities, including in launching a series of off-the-record workshops to address key policy challenges in U.S. counter-terrorism efforts. Still an active contributor to the field, Pearlstein was appointed in 2009 to the ABA's Advisory Committee on Law and National Security.
Before embarking on a career in law, Pearlstein served in the White House from 1993-1995 as a Senior Editor and Speechwriter for President Clinton. A magna cum laude graduate of Harvard Law School, Pearlstein clerked for Judge Michael Boudin of the U.S. Court of Appeals for the First Circuit, then for Justice John Paul Stevens of the U.S. Supreme Court.
---
Abraham D. Sofaer
Abraham D. Sofaer, who served as legal adviser to the U.S. Department of State from 1985 to 1990, was appointed the first George P. Shultz Distinguished Scholar and Senior Fellow at the Hoover Institution in 1994.
Sofaer's work has focused on separation of powers issues in the American system of government, including the power over war, and on issues related to international law, terrorism, diplomacy, national security, the Middle East conflict, and water resources. He teaches a course on transnational law at the Stanford Law School. During his distinguished career, Sofaer has been a prosecutor, legal educator, judge, government official, and attorney in private practice. His most recent book is The Best Defense: Legitimacy and Preventive Force(Hoover Institution Press, 2010).
In 1985, then secretary of state Shultz asked Sofaer to become legal adviser to the U.S. Department of State, a position in which he served until 1990. He was principal negotiator in various interstate matters that were successfully resolved, including the dispute between Egypt and Israel over Taba, the claim against Iraq for its attack on the USS Stark, and the claims against Chile for the assassination of diplomat Orlando Letelier. He received the Distinguished Service Award in 1989, the highest state department award given to a non-civil servant.
In 1979, Sofaer was appointed U.S. district judge in the Southern District of New York, where he served until 1985. He published numerous opinions and handled several high-profile cases, including the libel action against Time magazine by Israeli general Ariel Sharon.
From 1969 to 1979, Sofaer was a professor of law at Columbia University School of Law, during which time he wrote War, Foreign Affairs, and Constitutional Power, an authoritative historical account of the constitutional powers of Congress and the president to control or affect the use of force. As a New York state administrative judge in 1975–1976, he handled the first major environmental action involving PCBs, specifically their discharge by General Electric into the Hudson River.
From 1967 to 1969, he was assistant U.S. attorney in the Southern District of New York.
He was a clerk to Judge J. Skelly Wright on the U.S. Court of Appeals in Washington, D.C., and to the Honorable William J. Brennan Jr., associate justice of the U.S. Supreme Court from 1965 to 1967. After leaving the Department of State, Sofaer practiced law at Hughes, Hubbard and Reed in Washington, D.C., from 1990 to 1994.
A veteran of the U.S. Air Force, Sofaer received an LL.B. degree from New York University School of Law in 1965, where he was editor in chief of the law review and a Root-Tilden scholar. He holds a B.A. in history from Yeshiva College (1962). Sofaer was awarded the degree Doctor of Laws, honoris causa, in 1980 by Yeshiva University.
---
Beth Van Schaack
Professor Beth Van Schaack joined the joined the Santa Clara University School of Law faculty from private practice with Morrison & Forester LLP, where she practiced in the area of commercial law, international law, and human rights. She was trial counsel for Romagoza v. Garcia, a human rights case that resulted in a plaintiffs' award of $54.6 million, and on the defense team for John Walker Lindh. She also served on the United States delegation to the International Criminal Court Review Conference in Kampala, Uganda.
Prior to entering private practice, Van Schaack was involved in human rights litigation as the Executive Director and Staff Attorney of The Center for Justice & Accountability, a non-profit law firm in San Francisco dedicated to the representation of victims of torture and other grave human rights abuses. She also clerked with the Office of the Prosecutor of the International Criminal Tribunals for the Former Yugoslavia from 1997-98.
---
Richard J. Wilson
Richard J. Wilson is Professor of Law and founding director of the International Human Rights Law Clinic at the Washington College of Law, American University, in Washington, DC, where he has taught since 1989. He is one of the directors of the law school's Center for Human Rights and Humanitarian Law, and has directed the law school's nationally recognized clinical program. Professor Wilson has taught in summer international law programs in The Hague, Oxford University, and Santiago, Chile, as well as in the law school's summer Human Rights Academy. He has been a visiting professor at law schools in the Netherlands, Japan and Peru, a Fulbright Scholar in Colombia, and has written or edited eleven books and monographs on international and domestic law. He has authored over 70 articles, chapters and reviews on a range of international and domestic law issues, and has also continued to litigate throughout his career.
Professor Wilson has represented three prisoners at Guantanamo Bay, Cuba. From July, 2004 through June, 2007, he represented Omar Khadr, a young Canadian detainee who pled guilty in October 2010 in military commission proceedings at Guantanamo. He currently represents Salem Gherebi, from Libya, and Polad Sirajov, the only detainee from Azerbaijan. He has traveled to Guantanamo more than a dozen times since late 2004, when he was one of the first lawyers to enter the detention facility.
He is a graduate of DePauw University and the College of Law of the University of Illinois, and was a Peace Corps volunteer in the Republic of Panama.
---
Schedule
FRIDAY, FEBRUARY 3, 2012 – Venue: Mission Room, Bensen Center

10:30 to 11:00 AM: Registration, Coffee and Snacks
11:00 to 11:15 AM: Welcome and Opening Remarks
David Sloss, Professor of Law; Director of the Center for Global Law and Policy
Nina Decker, Editor-in-Chief of the Journal of International Law
Natalie Nguyen, Senior Symposium Editor of the Journal of International Law
11:15 – 12:45 PM: Panel One
Presenter: Richard Wilson
Paper topic: Human Rights and Humanitarian Law in Collision: A Study of the Case of Omar Khadr, a Child Soldier Detained at Guantanamo
Commentator: Mariano Baños
Commentator: Kate Jastram
Moderator: David Glazier
12:45 to 2:30 PM: Lunch and Lunch-Time Speaker
Speaker: Mark A. Drumbl
Paper topic: Child Soldiers and the Architecture of Post Bellum Settlements
2:30 PM to 4:00 PM: Panel Two
Presenter: Geoffrey Corn
Paper topic: Emerging Issues in International Humanitarian Law:
The Right to Counsel
Commentator: Kristine Huskey
Commentator: Deborah Pearlstein
Moderator: Kyle Graham
4:00 to 4:15 PM: Break
4:15 – 5:15 PM: Keynote Address
Louise Doswald-Beck
5:30 to 6:30 PM: Reception at Arts & Sciences Building
---
SATURDAY, FEBRUARY 4, 2012 – Venue: Mission Room, Bensen Center

9:00 – 9:15 AM: Breakfast and Welcome Back Remarks
9:15 to 10:45 AM: Panel Three
Presenter: Oren Gross
Paper topic: Future Weapons, Past Laws

Commentator: Kenneth Anderson
Commentator: Ashley Deeks
Moderator: Gregory McNeal
10:45 to 11:00 PM: Break
11:00 AM to 12:30 PM: Panel Four
Presenter: Dina Francesca Haynes
Paper topic: Women in the Post Conflict Process: A Review of the Impact of UN Resolution 1325 and UN Women in Achieving Gender Gains from Conflict
Commentator: Abraham D. Sofaer
Commentator: Johanna Bond
Moderator: Beth Van Schaack
12:30 to 12:45 PM: Closing Remarks
---
Abstracts
Emerging Issues in International Humanitarian Law: The Right to Counsel
Geoffrey S. Corn
Almost immediately after the United States unleashed its military power to detect and disable the terrorist threat, an entirely new preventive detention regime emerged: the detention of alleged unprivileged belligerence captured in the ongoing armed conflict with al Qaeda and other associated forces. This detention regime has generated perhaps more controversy than any other aspect of the ongoing struggle against this transnational terrorist threat, triggering an abundance of legal scholarship, commentary, and debate. It has also involved ongoing internal government efforts to refine the process for assessing which captives should be subjected to what is essentially indefinite detention. These efforts have been punctuated by judicial challenges and several critical Supreme Court decisions, as well as legislative efforts to provide greater clarity in the balance between government detention authority and individual interests. The net result has been both an endorsement of the government's invocation of a preventive detention authority based on the law of armed conflict and imposition of limitations on the President's authority to manage the detention process.
All of this has resulted in two undeniable realities: first, the legal authority for the preventive detention of captured terrorist belligerents is now firmly entrenched and unlikely to be reconsidered any time soon; second, the ever growing recognition that this authority will result in what Justice Kennedy characterized as "generational detention" has and will continue to produce pressure on the United States to ensure the accuracy and legitimacy of detention decisions. To this end, the government has made substantial advances in the process for assessing when a captured individual should be committed to indefinite military detention. These advances have impacted not only the several hundred detainees in Guantanamo Bay Cuba, but also the thousands of detainees held by the United States in Afghanistan.
One aspect of the detention review process has remained unaltered since the initiation of the Global War on Terror: the lack of legal representation for individuals subjected to detainee status determinations. Relying ostensibly on a variety of justifications – including inter aliathe fact that the LOAC does not require legal representation for lawful enemy combatants and that the preventive nature of the detention in no way implicates the Sixth Amendment of the U.S. Constitution – the United States has steadfastly refused to provide captives such assistance at proceedings to determine whether they qualify for indefinite detention. Instead, in an obvious analogy to the process for determining POW status pursuant to the Geneva Convention Relative to the Treatment of Prisoners of War and the Army Regulation implementing that treaty, a non-legal representative is provided to assist the captive in contesting the legitimacy of the unlawful belligerent status determination and the preventive detention resulting from that characterization.
This article will question whether denying these captives legal representation is justified in light of the interests at stake in the detention review process. In so doing, it will consider the fundamental balance between the risks and consequences of error and the feasibility of providing such assistance implicated by the preventive detention process, and how this balance influences the ongoing conclusion that lay representation by a military office is justified by the nature of the preventive detention process. While acknowledging that wartime preventive detentions fall outside the scope of precedents like Powell and Gideon, the article will draw from underlying principles reflected in these decisions to question whether the lay representation by military officers is sufficient to effectively advance the interests implicated in this non-punitive preventive detention process. Finally, the article will consider the probable objections to providing legal representation to detainees to include the feasibility of doing so.
---
Future Weapons, Past Laws
Oren Gross
The laws governing armed conflicts—both those attempting to regulate the legality of going to war (jus ad bellum) and the rules pertaining to the conduct of warfare (jus in bello)—have seen changes and modifications in reaction to shifts in the nature of warfare, in general, and the introduction of new technologies of communication, transportation, manufacturing and destruction, in particular.
Yet, all too often such changes and adaptations, to the extent they emerge, are backward rather than forward looking. Nowhere is this discrepancy more glaring than in the virtual lack of legal attention and discussion, not to say regulation, of emerging technologies of warfare. Whereas technological innovations have been a continuous feature of war-making, we are now witnessing what may be described as a potential game-changing, paradigm shift in the ways wars are fought. Such dramatic changes must be reckoned with and thought about. To give but one example, much proverbial ink has been spilled in the last couple of years to discuss the legality of drone attacks by the United States in combat zones such as Afghanistan as well as in areas outside the zone of operations, most notably Pakistan. Drones attract much attention because of the fact that they are 'unmanned' aerial vehicles. Yet to a significant extent, even drones involve a significant human input in the decision-making process leading to the "taking out" of an identified target. Indeed, drones are 'remotely piloted.' At the same time, it is obvious that in the near future technology will reach a stage of advancement which will no longer require any sort of human input once the weapon is introduced into the battlefield. Indeed, this is arguably already the case with respect to certain weapons systems.
In this paper Professor Gross will begin to explore some of the legal ramifications that the 'robotics revolution' present to the international law of armed conflict.
---
Women in the Post Conflict Process: A Review of the Impact of UN Resolution 1325
and UN Women in Achieving Gender Gains from Conflict
Dina Francesca Haynes, Naomi Cahn, Fionnuala Ní Aoláin
The data are in; women are still insignificant. Even after more than a decade of experience with UNSCR 1325, women have made only insignificant gains in peace processes. While the UN has repeatedly renewed its commitment to "mainstream" gender, most notably with its Millennium Goals and the creation of UN Women, all of these exhortations have thus far counted for little.
The lens of this paper is focused on the conflict and post conflict terrain, because it, in theory at least, provides multiple opportunities for transformation on many different levels – including accountability for human rights violations committed during hostilities, reforming local and national laws, reintegration of soldiers, rehabilitation and redress for victims, the establishment or re-establishment of the rule of law, the creation of human rights institutions and new governance structures, alteration of cultural attitudes, the improvement of socioeconomic conditions and transformation of gender roles and women's status. This paper explores why it matters that gender become truly central in international humanitarian law and post conflict processes. It reviews UNSCR 1325 and the establishment of UN Women to assess their real contributions towards achieving gender centrality, looking at development literature and other scholarship and data evaluating the UN's successes and failures. Finally, it recommends how gender can become truly central with humanitarian and post conflict processes.
This essay will draw on the authors' forthcoming book On the Frontlines: Gender, War and the Post-Conflict Process (OUP 2011).
---
Human Rights and Humanitarian Law in Collision: A Study of the Case of Omar Khadr,
a Child Soldier Detained at Guantanamo
Richard J. Wilson
For four years, from 2004 to 2008, the author represented Omar Khadr, a Canadian citizen who was captured by allied forces near Khost, Afghanistan, shortly after the U.S. intervention in that country following the attacks on the United States on September 11, 2001. Omar was 15 years old at the time of his capture in October of 2001. He was seriously wounded in the firefight leading to his capture, and an American soldier died in that confrontation from head wounds. Omar was taken to Bagram Air Force Base, where his interrogation began even as he was being treated for the near-deadly wounds he had sustained. He was transferred to Guantanamo, Cuba shortly after that, among the first detainees to arrive there. In October of 2010, at the age of 25 and after nine years in detention, Omar Khadr pled guilty to charges including murder and was sentenced to eight years imprisonment, the last seven to be served in Canada after his transfer there from Guantanamo. No credit was given for the time he had served in detention.
The legal battles that followed the detention of Omar Khadr are complex and multi-faceted, and present a compelling contrast in the application of international human rights law and humanitarian law, the law of war. Litigation on Omar's behalf took place in a multitude of legal contexts and venues: habeas corpus proceedings in the federal courts of Washington, DC; military commission proceedings in a process ultimately condemned by the U.S. Supreme Court but reinstated by Congress in the same year of the Supreme Court's decision; and Canadian courts, where judges generally sympathetic to Omar's plight watched with frustration from a distance as the U.S. courts failed to recognize Omar's human rights as a child. The court decisions from these tribunals, some rendered while the author was counsel for Omar and some coming after the attorney-client relationship ended, present startling contrasts in the concrete application of human rights and humanitarian law embodied in the phrase "child soldier." If Omar was a child at the time of the actions of which he was accused, human rights law protects him more comprehensively than if he was a reasoning adult. If he was a soldier, humanitarian law would seemingly protect his actions as a combatant, but only if his status as a combatant was legally recognized in the law of war. The case also demonstrates, in this author's view, disturbing aspects of U.S. exceptionalism with regard to its recognition of human rights.