The Center for Social Justice will sponsor a few Santa Clara law students who'd like to attend the Trina Grillo Retreat. The Retreat provides a unique opportunity for law students, faculty, and practitioners to exchange viewpoints, explore career opportunities, and formulate creative strategies for social justice. The Retreat is co-sponsored by SALT and a consortium of law schools including Santa Clara Law. To learn more or to register, please contact Deborah Moss-West (dmosswest@scu.edu). Thank you.
Trina Grillo
1948-1996
Grillo Consortium
Trina Grillo Bio
---
EVENT SCHEDULE
FRIDAY, MARCH 20, 2015

2:00 – 5:00

Community Service Project
Sponsored by Santa Clara Law Student Bar Association

On campus & off-site activities

5:30 – 8:00

Opening Event and Retreat Reception

Why A Trina Grillo Retreat?
Margaret Russell, Santa Clara Law

Evening Address:
Paul Henderson, Deputy Chief of Staff & Public Safety Director, City of San Francisco, "A Legal Perspective on Race, Civil Rights, and Social Justice"

Introduction:
Ellen Kreitzberg, Santa Clara Law
Mix and Mingle – Music by OLD SOL

Adobe Lodge

SATURDAY, MARCH 21, 2015

8:00 – 8:45

Registration and Continental Breakfast

8:45 – 9:00

Welcome and Remembering Trina Grillo
Eric Wright, Santa Clara Law
Nancy Wright, Santa Clara Law

Bannan 142

9:00 – 10:15

Opening Plenary – Re-Imagining Social Justice Lawyering: Social Justice Lawyers Describe Their Approach to Practice

Panelists:

Rhonda Magee, University of San Francisco School of Law
Alex R. Gulotta, Bay Area Legal Aid
Erika Rivera, Law Offices of Erika Rivera

Moderator:
Deborah Moss-West, Santa Clara Law

Bannan 142

10:15 – 10:30

Break

10:30 – 11:45

Concurrent Session – Using Pro Bono and Experiential Learning to Launch your Practice

In an effort to build skills and help meet the "justice" gap, the ABA and State Bars across the country continue to explore and implement increased requirements for hand-on training for law students. This inspirational panel will discuss how pro bono and experiential learning can enrich and inform future social justice practice.

Panelist:
Laura Cohen, Southwestern Law School
Carolyn Kim, Bay Area Legal Aid


Tirien Steinbach, East Bay Community Law Center

Moderator:

Michael T. Iglesias, University of San Francisco School of Law

Bannan 142

10:30 – 11:45

Concurrent Session – Social Justice Entrepreneurialism

This panel will explore innovative trends in social justice entrepreneurism. Increasingly, law school graduates are developing innovative methods and means for building social justice practices, which are designed to provide legal services in new ways, to new populations, in new areas of law, while building economic sustainability into their frameworks.

Panelists:

Cynthia Chandler, Golden Gate University School of Law
Kristina Dolgrin '15, Golden Gate University School of Law, Red Light Legal

Moderator:
Grace Hum, University of San Francisco School of Law

Bannan 139

11:45 – Noon

Pick up box lunches and reconvene by 12:00 for Dean's Roundtable

Noon – 1:15

Dean's Roundtable – Social Justice and Legal Education
This panel will offer perspectives on the continued importance of public interest and social justice teaching, scholarship, and service in today's law school and the legal profession.

Panelists:

Lisa Kloppenberg, Santa Clara Law
Susan Westerberg Prager, Southwestern Law School
John Trasviña, University of San Francisco School of Law
Michele Storms, University of Washington Law School

Moderator:
Margalynne Armstrong, Santa Clara Law

Bannan 142

1:15 – 1:30

Break

1:30 – 3:00

Career Strategies Groups:

Connect with public interest and social justice lawyers and law students. Talk about your own strategies for entering social justice practice.

Moderator:

Nikki Harris, William S. Boyd School of Law, University of Nevada, Las Vegas

Break-out Groups:

Bannan 142 &
Bannan 139

3:00 – 3:15

Break

3:15 – 4:30

Closing Plenary: Using Technology and Social Media to Change the World. Hear from attorneys and communications experts who use technology to advance public interest and social justice law.

Panelists:
Van T. Dang, Investor, Entrepreneur, and Start-up Advisor
Cameron Day,  Pro Bono Project of Silicon Valley

Rebecca Farmer, ACLU of Northern CA
Tony Lai, LawGives, Stanford Center for Computers and Law

Moderator:

Bannan 142

 

4:30 – 5:30

Concluding Remarks and Reception
This activity offers Minimum Continuing Legal Education credit by the State Bar of California in the amount of five hours. Santa Clara University School of Law certifies that this activity conforms to the standards for approved education activities prescribed by the rules and regulations of the State Bar of California governing minimum continuing legal education.
---
SPEAKER BIOS
Margalynne Armstrong, Santa Clara University School of Law
Professor Armstrong joined the Santa Clara University School of Law faculty in 1987 and serves on the boards of several community organizations. She is well-published in the areas of housing, racial discrimination, comparative and constitutional law.
Prior to joining the law faculty at Santa Clara, Armstrong practiced public employment law, served as a staff attorney with the Legal Aid Society of Alameda County, and directed the Academic Support Program at Boalt Hall. While she attended University of California, Berkeley, she served as associate editor of the Ecology Law Quarterly.
---
Cynthia Chandler, Golden Gate University School of Law
Adjunct Professor Cynthia Chandler is the Co-Founder and Executive Director of Justice Now, a human rights organization working with women in prison and local communities to build a safe, compassionate world without prisons. Cynthia speaks and publishes regularly on prison industrial complex abolition, racial justice, and women's health. In 2010, Cynthia was awarded a Gevelber Distinguished Lectureship on Public Interest Law from Northeastern University School of Law. She received a JD from Harvard University School of Law and an MPhil in Criminology from the University of Cambridge.
Cynthia has worked on issues of women's heath, racial justice, and abolition for over 20 years. Before co-founding Justice Now, Cynthia founded and directed Women's Positive Legal Action Network–the first organization in the US advocating on behalf of HIV+ people in women's prisons. Cynthia has helped launch numerous social justice organizations, including Critical Resistance; TGI Justice Project; and the Eviction Defense Center. In recognition of her support of the leadership of people in prison toward social change, Cynthia was selected as an original recipient of the Ford Foundation Leadership for a Changing World Award. In 2005, she was selected by the Women's Health Activist Network as a Top 30 Activist for Women's Health. Cynthia helped create the practice of compassionate release for people dying in prison through sponsorship of model decarceration legislation, for which she was designated the 1997 Attorney to Whom California Can Be Most Grateful by California Law Business. She remains one of the only lawyers practicing in this area.
---
Laura D. Cohen, Southwestern Law School
Laura Dym Cohen is the Director of the Street Law Clinic and Community Outreach and Associate Clinical Professor of Law at Southwestern Law School in Los Angeles, California. She created and implemented the Street Law Clinic which trains law students to teach youth who are aging out of foster care about their legal rights and responsibilities. In addition, she oversees the Public Service Program which encourages law students to volunteer in the legal community. She works closely with students, graduates and the legal community on a wide range of collaborative programs and initiatives in public interest including the Small Claims Clinic, Teen Court and the new Los Angeles Incubator Consortium. She helped to coordinate the Trina Grillo Retreat hosted at Southwestern in 2014. Professor Cohen is very involved with the California State Bar as she was on the Council on Access and Fairness and was a member of the Task Force on Admissions Regulation Reform (Phase II). Professor Cohen currently is on the National Advisory Committee with Equal Justice Works. Prior to joining Southwestern Law School, she practiced in Children's Court in Los Angeles.
Professor Cohen received her BA in Communication Studies from UC Santa Barbara and her JD from the University of  San Francisco School of Law.
---

Van T. Dang, Investor, Entrepreneur and Start-Up Advisor
Van is a seasoned Silicon Valley executive and an entrepreneur.  Her current activities include working with entrepreneurs and start-ups.  She is an advisor to two early stage start-ups.
Van is known for her innovation and thought leadership of Internet solutions for the legal profession, including the creation of the first social media website for lawyers. She created many of the first online compliance training for Cisco employees.  She was also instrumental in developing many of the first online legal applications, including the global virtual approval tool, click-to-accept NDA and other legal agreements, open source automated intake and approval tool. She is the visionary behind the creation of the "Virtual Pro Bono Clinic" using on-line collaboration technology to provide free legal services to people with moderate means.
Van has substantial transactional and operational experience having led many diverse functions, including product development and licensing, M&A, and strategic alliances.  Van was involved in over 70 acquisitions and investments for Cisco.  She created and led Cisco's first data protection and privacy program and chaired its cross-functional privacy committee.  She served on the Cisco Communication and Collaboration Board and Global Compliance Governance Committee.
She has served on a number of non-profit board and advisory boards, including:  NOVA Workforce Board; Silicon Valley Education Foundation; Second Harvest Food Bank; Pro Bono Project Silicon Valley; and Asian American for Community Involvement.  She is a Senior Fellow of the American Leadership Forum and a member of Foothill – De Anza Community College District's Chancellor's Business and Industry Advisory Council.
Van is the recipient of multiple awards, including Business Trailblazer, Woman of Influence, Lady Justice Innovator, Community Champion, and Women of Achievement.
She was Vice President and Deputy General Counsel of Cisco Systems, Inc. until 2014. Prior to Cisco, she was at Stratacom, Maxtor Corporation and Pillsbury Winthrop LLP.
Van received a B.A. from the University of California, Irvine, and a J.D. from Santa Clara University School of Law.  She serves on the High Tech Advisory Board at Santa Clara University School of Law.
---
Cameron Day, Pro Bono Project of Silicon Valley
Mr. Day oversees the Virtual Legal Services Program, providing pro bono services to low income clients using virtual clinics. The Virtual Legal Service Program, overseen my Mr. Day, operates 6 virtual clinics throughout Santa Clara County providing legal advice on a range of topics to under-served community members. Since its inception in 2013, the virtual program has provided legal advice to more than 200 community members with more than 50 volunteer attorneys participating virtually from locations as far away as Los Angeles and Germany.
Mr. Day's legal experience includes managing a successful private practice handling cases including from family law, real property litigation, contractual disputes, corporate law, non-profit representation, trust and probate petitions and he has served as a prosecutor in Santa Clara County. Prior to practicing law, Mr. Day worked for the U.S. Congress as well as the Assembly of the State of California and he was a principal at a political consulting firm specializing in campaign compliance and reporting.
Mr. Day graduated from Santa Clara University School of Law in 2009 where he was an Emory Merit Scholar, was awarded "Best Oralist" and "Best Advocate", earned a "Bronze Star" for his pro bono dedication, and was selected to represent the law school in Honors Moot Court (External) at the American Constitution Society's Constance Baker Motley First Amendment Competition. In addition to his J.D. from Santa Clara University School of Law, Cameron also holds a B.A. degree in Classics from U.C.L.A. and an A.A. degree from De Anza College.
---
Kristina Dolgin, Golden Gate University School of Law '15
Red Light Legal
---
Erin E. Dolly, University of San Francisco School of Law
Erin E. Dolly joined the San Francisco office of Hirschfeld Kraemer LLP, a boutique employment law firm in February 2015, where she advises private and public institutions of higher education on a broad range of legal matters, including labor, employment, student affairs and compliance issues. Dolly is also an Adjunct Professor at the University Of San Francisco School Of Law where she teaches Legal Drafting.
For the past seven years, Dolly served as the Assistant Dean for Student Affairs at the USF School of Law where she was responsible for developing, administering, and providing leadership to current students and recent graduates. In this role, she oversaw orientation, graduation, advising, pro bono, community service, professional development, school sponsored post-graduate employment and fellowship opportunities, mission-related and diversity initiatives, and student conduct matters.
Prior to her time at USF, Dolly worked as an associate at Baker & McKenzie LLP advising multinational clients on their compensation and benefit programs. She also served as co-chair of Baker & McKenzie's SF/PA Pro Bono Committee, where she co-authored an amicus brief in support of an application for writ of certiorari to the Supreme Court of the United States in Winkelman v. Parma City School District, co-wrote a chapter of an international negotiation manual for the Public International Law and Policy Group, and contributed to a background report on Legal Mechanisms for Government Accountability for the Rule of Law and Access to Justice Working Group for the U.N. Commission for the Legal Empowerment of the Poor. In 2006, she received the Outstanding Barrister of the Year Award from the Bar Association of San Francisco.
---
Rebecca Farmer, ACLU of Northern California
Rebecca Farmer leads the ACLU-NC's communications team and oversees the public face of the organization. At the ACLU-NC she creates and implements comprehensive strategic communications plans to amplify the organization's work on a variety of issues, including reproductive justice, LGBT rights, education equity, criminal justice, free speech and digital privacy. She brings 15 years of expertise in strategic communications at a range of social justice and feminist organizations. She is a 2012-2013 Rockwood Leadership Institute LGBTQ Fellow. Prior to the ACLU-NC, Rebecca worked at Breast Cancer Action, where she led the Think Before You Pink campaign, the SPIN Project and the National Organization for Women. She earned a Bachelor's degree from the University of Oregon.
---
Alex R. Gulotta, Bay Area Legal Aid
Alex Gulotta joined Bay Area Legal Aid (BayLegal) in January 2014 following the departure of founding director Ramón Arias. Bringing 28 years of experience as a poverty law advocate to BayLegal, Alex is a life-long advocate for social justice. After practicing as a legal aid lawyer in Appalachian Kentucky and in Wisconsin, he moved to Virginia in 1994 to become the Executive Director of the Legal Aid Justice Center (LAJC). As LAJC Executive Director, Alex earned a national reputation for his tenacity and creativity in overcoming the severe restrictions put on federally funded legal aid programs in 1996 by the U.S. Congress. Under his tenure the one-office, eight person program with a $350,000 budget grew into a four-office, forty person program with a budget of approximately $4 million. The program also gained a reputation for its hard-hitting advocacy and close connections to its client communities. Alex also has extensive experience in eighteen states as a consultant assisting legal aid and other advocacy programs with strategic planning, quality improvement and peer review assessments. Alex has a BA and JD from Marquette University, and has earned numerous awards including Virginia State Bar's Legal Aid Lawyer of the Year Award, the National Legal Aid and Defender Association's Charles Dorsey Award in 2003, a resolution of commendation from the Virginia General Assembly.
---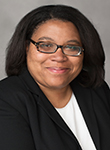 Nikki Harris, William S. Boyd School of Law, University of Nevada, Las Vegas
Nikki Harris received her B.A. in Political Science from Vassar College. She earned her J.D. from New England School of Law, where she served as the Lead Article Editor for the New England Journal on Criminal and Civil Confinement and was the President of the Black Law Student Association. Prior to law school, Ms. Harris was the Rackets (organized and white collar crime) Bureau Administrator for the New York County District Attorney's Office. While attending law school, she was an intern at Greater Boston Legal Services in the Health & Disability and Family Law departments. Ms. Harris completed a summer externship with the Arizona Attorney General's Office in the Complex Litigation Unit of Child Support Enforcement. Prior to joining the staff at the Boyd School of Law, she was an Adjunct Instructor at Everest College in the Criminal Justice, Paralegal, Medical Assisting, and Business departments. She also taught career skills courses and assisted students and alumni with their career development plans. As Professional Development and Public Interest Coordinator, Ms. Harris provides career counseling to students and alumni, assists them with placement and networking opportunities, and develops programs and resources to assist students and alumni with their job search. Ms. Harris also serves at the Chair for the Las Vegas chapter of the National Bar Association's Good & Wellness Committee.
---
Paul Henderson, City of San Francisco
Paul Henderson was appointed Deputy Chief of Staff & Public Safety Director by the Mayor of the City of San Francisco, Edwin M. Lee, in March, 2011. As Deputy Chief of Staff, Mr. Henderson serves as a principal advisor to the Mayor and is responsible for the development and implementation of strategic policy and administration among various cabinet and supervisory officials of the local government. The City of San Francisco has over 27,000 employees, and Mr. Henderson is responsible for managing the various city departments that provide direct support to the Mayor on major issues affecting the city with an emphasis on the criminal justice system and local, state and federal partners.
Prior to joining the Mayor's office, Mr. Henderson served as Chief of Administration and prosecutor for the District Attorney of San Francisco. As a trial attorney with nearly two decades of courtroom experience, Mr. Henderson successfully handled all types of cases in the criminal justice system. As a leader and innovator, Mr. Henderson is recognized for introducing numerous cutting-edge programs of national consequence including, a modified approach to 3 strikes, juvenile drug court, juvenile domestic violence court, drug possession court, community justice court and a neighborhood DA program. Over the years these programs have served as model initiatives of national recognition that have contributed to the reform of the criminal justice system. Mr. Henderson's service as Chief Administrator constituted the highest ranking position in the San Francisco District Attorney's Office ever held by either a LGBT or an African-American male attorney. Mr. Henderson has developed curricula and conducted trainings for legal professionals, public agencies and elected officials across the country. Most notably, Mr. Henderson serves on the national faculty for the Department of Justice where he trains other attorneys and municipalities on how to develop and implement innovative criminal justice models.
A native of San Francisco, Paul worked his way through his undergraduate studies at UCLA before venturing off to earn his Juris Doctorate from Tulane University. As a speaker and attorney, Paul Henderson has made over 400 televised appearances and he regularly contributes to CNN, MSNBC, Fox News, and many other media outlets. He is currently the on-air legal analyst for CBS News. California Magazine recently identified Mr. Henderson as "one of the most astute legal minds in the state."
---
Grace Hum, University of San Francisco School of Law
Grace Hum was appointed to the position of Interim Assistant Dean of Student Affairs at the University of San Francisco, School of Law in the spring of 2015. She has also served as the Director of the Legal Writing Program and is currently an Assistant Professor of Legal Writing. Grace teaches legal research and writing to first-year students and elective courses to upper-division students. Her teaching emphasizes professionalism and practical skills, so that law students can hit the ground running in their summer jobs and careers as lawyers.
After Grace received her undergraduate degree in Sociology and Rhetoric & Communications from UC Davis, she attended Santa Clara University School of Law, where she was a member of the law review and the trial team. She also received a Master's degree in Law from Stanford Law School. She worked as a staff attorney for the U.S. Court of Appeals for the Ninth Circuit and as a research attorney for the U.S. Department of Labor. Grace has also taught at Stanford Law School and Santa Clara University School of Law.  In 2000, she was the inaugural Public Interest Teaching Fellow for Santa Clara's Center for Social Justice and Public Service (known at the time as the Center for Law and Public Service).
---
Michael (Tim) Iglesias, University of San Francisco School of Law
Tim Iglesias is a Professor of Law at the University of San Francisco, School of Law where he teaches Property Law, Land Use Law, Housing Discrimination, Eviction Lawyering, Community Property and Contemplative Lawyering. Prior to teaching he worked for six years at the Non Profit Housing Association of Northern California assisting non-profit developers obtain local government approvals for affordable housing developments in the face of community opposition. His scholarship primarily focuses on affordable housing, fair housing, and land use. He recently organized, co-authored and edited an amicus brief on behalf of USF's Leo T. McCarthy Center for Public Service and the Common Good and 45 Housing Scholars in California Building Industry Association v. City of San Jose (S212072), a case currently before the California Supreme Court that challenges inclusionary zoning. The amicus brief provided historical context for inclusionary zoning as a response to exclusionary zoning and social science support for the public policy benefits of inclusionary zoning.
---
Carolyn Kim, Bay Area Legal Aid
Carolyn M. Kim is currently a staff attorney with Bay Area Legal Aid where she provides client-centered legal representation for survivors of domestic violence in domestic violence restraining order, dissolution, child custody, and other family law cases from the initial petition through trial and judgment. She also provides complete representation on immigration matters; assisting survivors obtain U-Visas for victims of crime, I-751 Waivers of conditional residency, and Special Immigrant Juvenile Status (SIJS). Carolyn worked at Asian Pacific Islander Legal Outreach where she was a family law attorney and law clerk prior to joining Bay Area Legal Aid. While in law school, Carolyn also was a law clerk at the Katharine and George Alexander Community Law Center and Public Advocates. Carolyn is a 2012 graduate from Santa Clara University School of Law. She received her undergraduate degree from University of California, Berkeley.
---
Lisa Kloppenberg, Santa Clara University School of Law
Dean Kloppenberg is a well-known expert in constitutional law and Appropriate Dispute Resolution. She is the co-author of a popular text teaching law students to be effective advocates in negotiation and mediation. Previous to being appointed Dean in 2013, Kloppenberg served as Dean and Professor of Law at the University of Dayton (2001-2011) where she received national recognition for championing curricular reform and creating the first accelerated five-semester law degree in the nation. She also diversified the faculty, emphasized student services and fostered a renewed student commitment to service.
A West Coast native, Kloppenberg received her law degree from the University of Southern California Law Center where she was editor-in-chief of the law review. After graduation, Kloppenberg clerked for Judge Dorothy Wright Nelson of the 9th U.S. Circuit Court of Appeals. She then became an attorney with Kaye, Scholer, Fierman, Hays & Handler in Washington, D.C. where she was involved with litigation, arbitration, and mediation of a variety of domestic and international disputes.
Kloppenberg returned to the West Coast to teach at the University of Oregon School of Law where she served as a faculty member for nearly 10 years. She pursued her interest in constitutional issues and dispute resolution. She also co-founded and directed the school's Appropriate Dispute Resolution Program.
Dean Kloppenberg has been active with numerous academic and professional organizations including the American Bar Association Section of Legal Education and Admission to the Bar, as a member of the Standards Review Committee and the Law School Admission Council as a member of the Finance and Legal Affairs Committee.
In 2014, Dean Kloppenberg was appointed to serve on the Association of American Law Schools (AALS) Dean's Forum Steering Committee.
---
Ellen S. Kreitzberg, Santa Clara University School of Law
Professor Kreitzberg has practiced and written extensively on the death penalty. She created and now directs the Death Penalty College, a residential training program held each August at Santa Clara University School of Law to train lawyers assigned to the defense of a capital case.
Prior to joining Santa Clara University School of Law in 1988, Professor Kreitzberg was a trial attorney for the Public Defender Service in Washington, D.C., while also representing death row inmates on a pro bono basis. She is an annual guest lecturer at Harvard Law School's Trial Advocacy Program. Professor Kreitzberg received a J.D., from George Washington University Law School and a B.A. from the University of Pennsylvania.
---

Tony Lai
Tony Lai is a lawyer turned educator and entrepreneur, working to create and evangelize structures that support openness and innovation, engagement and sharing. Tony read Modern History at Exeter College, Oxford and holds a Masters in Law Science and Technology from Stanford University, California.
Tony is the co-founder of LawGives, a startup with a mission to bring universal access to trusted legal help. LawGives helps lawyers use technology to achieve their full potential.
Tony is also on the staff team, at StartX, the Stanford student startup accelerator, helping Stanford's most passionate, innovative and talented founders develop as entrepreneurs through experiential education. He is a Fellow at CodeX, the Stanford Center for Legal Informatics, and was on the teaching team for the joint Harvard/Stanford class, Ideas for a Better Internet. He is also an Associate Editor for Stanford Law School's China Guiding Cases Project, an initiative aiming to advance knowledge and understanding of Chinese law and to enable judges and legal experts both inside and outside of China to contribute to the evolution of Chinese case law.
Previously, Tony was an Associate at Herbert Smith LLP, practicing law in their London and Hong Kong offices, advising companies, public sector bodies and charities working in the technology, communications and media industries across Europe, Asia and Africa. In April 2011 Tony was a recipient of the Samsung-Stanford Patent Prize for his academic work on patent damages.
Tony continues to be an avid exponent of design thinking, after spending a glorious six months working with an interdisciplinary team of graduate students at Stanford's d.school to design, prototype and deploy innovative solutions in the context of museums, art and cultural spaces.
---
Rhonda Magee, University of San Francisco School of Law
Professor Rhonda Magee's scholarly work focuses on race law and policy as well as on humanizing legal education and the practice of law. This effort aims to help law students and practitioners cope with pressure in order to be more successful and effective. A national leader in the movement to humanize law and legal education, and an expert in contemplative pedagogy, Professor Magee recently published "Contemplative Practices and the Renewal of Legal Education," New Directions for Teaching and Learning: Contemplative Studies in Higher Education, no. 134, (Jossey Bass, 2013), 31." Magee's courses share a common theme of examining how law responds to the vulnerable in society. She is the author of numerous journal articles, including "Educating Lawyers to Meditate?" (University of Missouri-Kansas City Law Review, 2011), "Slavery as Immigration?" (University of San Francisco Law Review, 2009), and "Competing Narratives, Competing Jurisprudences: Are Law Schools Racist?" (University of San Francisco Law Review, 2009).
---
Deborah Moss-West, Santa Clara University School of Law
Deborah Moss-West is Director of the Center for Social Justice and Public Service at Santa Clara Law. The Center provides students with a legal education that instills a commitment to social justice, public interest, and public service. She is a lecturer for the Law School and undergraduate University teaching public interest and social justice courses.
Prior to joining Santa Clara Law, Ms. Moss-West worked at the East Bay Community Law Center (EBCLC) for eight years, serving as Deputy Director and Development Officer.  Ms. Moss-West was a frequent contributor to EBCLC's clinical companion course, Community Law Practice, taught at Berkeley Law. During her career, Ms. Moss-West held various positions at Allstate Insurance Company and AT&T in the areas of Human Resources, Civil Litigation, and Contracting. She serves on non-profit boards, is active in her community, and was appointed to the State Bar's California Commission on Access to Justice in 2013.
---
Ngai Pindell, William S. Boyd School of Law, University of Nevada, Las Vegas
Professor Pindell earned his J.D. degree in 1996 from Harvard University, where he served as executive editor of the Harvard Black Letter Journal. After graduation, Professor Pindell practiced community development law in a nonprofit law firm in Baltimore, Maryland. He was later a Fellow, and also Visiting Assistant Professor, at the University of  Baltimore School of Law where he taught the Community Development Clinic. Professor Pindell came to the Boyd School of Law in 2000. His research interests are in economic development and housing, and he teaches Property, Land Use Regulation, Local Government Law and Wills, Trusts & Estates. He is a board member of the Society of American Law Teachers (SALT) and copresident from 2011-2013.
---
Susan Westerberg Prager, Southwestern Law School
Susan Westerberg Prager, Executive Director and Chief Executive Officer of the Association of American Law Schools (AALS) and former dean of UCLA School of Law, has been named Dean and Chief Executive Officer of Southwestern Law School. Her five-year term will begin in Fall 2013. Already a trailblazer many times over, Prager will be the first woman to serve as dean in the law school's 100+-year history.  In announcing the appointment, Board Chair Thomas Hoberman said, "The Board considered Dean Prager's stellar credentials and outstanding national reputation in the legal academy and higher education, her pragmatic and inspired vision for our law school, and the extremely enthusiastic support voiced by members of the Southwestern community. We are delighted that Dean Prager will be joining us this Fall."  Prager was selected by the Board following an extensive national search led by a committee of trustees, alumni, and faculty members. She will be the 11th dean of the law school, and succeeds Dean Bryant Garth, who stepped down in July 2012 after seven years in the post. Former Vice Dean Austen Parrish has served as Interim Dean since July 2012.
In accepting the appointment, Dean Prager said, "Southwestern is a remarkable place, with a rich tradition of making a difference in the futures of its students. The law school's innovative and collaborative spirit is part of its DNA. The faculty and countless graduates are committed to helping today's students contribute to the complex and challenging worlds they will occupy as professionals. I feel privileged to have been asked to lead Southwestern Law School at this challenging and exciting time in legal education."
The search for Bryant Garth's successor was chaired by Mike Downer '81, Vice-Chair of the Southwestern Board of Trustees, and Senior Vice President, Secretary and Chief Legal Officer at Capital Research and Management Company. "Dean Prager has the experience, skills and vision needed to continue building on the terrific momentum Southwestern gained under Dean Garth," Downer said. "We are thrilled that such a high-caliber individual will lead Southwestern into its second century."
Dean Emeritus Bryant Garth added, "Susan's knowledge, experience and national stature give her outstanding tools both to guide and mentor our faculty and to attract additional top quality scholar-teachers."
Commenting on Prager's appointment, Los Angeles Mayor Antonio Villaraigosa said: "We are pleased to welcome back to Los Angeles the nationally distinguished lawyer and academician Susan Prager. With Susan at its helm, Southwestern Law School will continue to be one of the great and most diverse trailblazing legal institutions that provides so many of this State's most distinguished judges, prosecutors, public defenders, and partners in top law firms."
Originally from Sloughhouse in Sacramento County, Dean Prager earned both her A.B. (1964) and M.A. (1967) degrees in History at Stanford University.  She then worked for California's senior U.S. Senator and minority whip Thomas Kuchel, Congressman Pete McCloskey, and California Assemblyman John Veneman from Modesto. She went on to complete her J.D. degree in 1971 at UCLA School of Law, where she served as editor-in-chief of the UCLA Law Review.
---
Erika Rivera, Law Offices of Erika Rivera
Erika Rivera has practiced family-based immigration law in both the non-profit and private sectors. Most recently she served at CET's Immigration and Citizenship Program's (CET-ICP) supervising attorney before opening her own practice in 2013. Prior to CET-ICP, she was a staff attorney at Community Legal Services in East Palo Alto (CLSEPA), where she handled a wide array of cases, including U visas, VAWA self-petitions, and family-based petitions. Erika is a current member of the American Immigration Lawyers Association (AILA) and has previously sat on the board of the local AILA chapter. She is works closely and consults with Sacred Hear Community Services and CET-ICP on their immigration programming. She is a foreign-born Salvadoran who is fluent in English and Spanish. Ms. Rivera graduated from Santa Clara University School of Law in 2007 and she received her undergraduate degree from the University of California at Los Angeles (UCLA).
---
Margaret Russell, Santa Clara University School of Law
Professor Russell has been a member of the Santa Clara University School of Law faculty since 1990, and is affiliated with the University's Center for Social Justice & Public Service, the Markkula Center for Applied Ethics, and the Center for Multicultural Learning. She has been honored for her contributions to student life at Santa Clara by the Asian Pacific Law Students Association and the Black Law Students Association. In 1991, she traveled to South Africa with a delegation of legal scholars to provide consultation on constitution-drafting for the post-apartheid transition.
Prior to joining the Santa Clara Law faculty, Professor Russell was a fellow at the public interest firm Public Advocates, Inc., a law firm in San Francisco. She served as the director of Public Interest Programs and as the acting assistant dean of student affairs at Stanford University, and also clerked for the Honorable James E. Doyle of the U.S. District Court in Madison, Wisconsin.
Professor Russell received a J.D. and J.S.M. from Stanford University, and a B.A., cum laude, from Princeton University.
---
Tirien Steinbach, East Bay Community Law Center
In March 2007, Tirien Steinbach became the third executive director of EBCLC. Tirien joined EBCLC in 2001 in the Income practice where she incubated Clean Slate practice, which she directed. In 2006 Tirien served as EBCLC's Director of Clinical & Program. Tirien is currently a Lecturer at Boalt Hall School of Law (UC Berkeley), and co-teaches "Community Law Practice at EBCLC," the companion seminar for Boalt students enrolled in EBCLC's clinical program.
In law school, Tirien was active in the public interest and student of color communities, where she served as co-president of the Berkeley Law Foundation Student Steering Committee and Vice President of Recruitment for Law Students of African Descent. Upon graduating from Boalt, Tirien is the recipient of numerous fellowships and awards, including an Equal Justice Works fellowship sponsored by the California Appellate Project, a Berkeley Law Foundation grant for her work at EBCLC, and the inaugural Thelton E. Henderson Social Justice Prize.
---
Michele E. Storms, University of Washington Law School
Michele E. Storms is the Assistant Dean for Public Service and executive director of the William H. Gates Public Service Law program at the University of Washington School of Law. Her previous position was as a statewide advocacy coordinator at both the Northwest Justice Project and Columbia Legal Services where she coordinated civil legal aid advocacy in the areas of family law, youth and education, housing, elder law, Native American and right to counsel issues. Ms. Storms started her legal career as a staff attorney at Evergreen Legal Services in 1988 with a focus on family law, custody and domestic violence. Storms served on the Washington State Access to Justice Board for six years and is currently a Management Information Exchange board member and is the elected secretary of that body. Over the years Storms has spoken and offered training on topics such as management, leadership and diversity and has served as a facilitator for meetings and retreats for nonprofit organizations.
---
John Trasviña, University of San Francisco School of Law
John Trasviña is the 18th dean of the USF School of Law. Dean Trasviña received his AB from Harvard University in 1980 and his JD from Stanford Law School in 1983.  Most recently, Dean Trasviña was the assistant secretary for fair housing and equal opportunity in the U.S. Department of Housing and Urban Development. Dean Trasviña was appointed by President Obama in 2009, and unanimously confirmed by the U.S. Senate. He led more than 580 employees in 43 offices across the country to enforce the nation's fair housing laws. Previously, he served as president and general counsel of the Mexican American Legal Defense and Educational Fund (MALDEF), where he oversaw six litigation and policy offices across the country, expanded services, and significantly increased fundraising efforts.
A native San Franciscan, Dean Trasviña began his career as a deputy city attorney here in 1983 before joining MALDEF in Washington, D.C., as a legislative attorney in 1985. He later worked for U.S. Sen. Paul Simon as general counsel and staff director for the U.S. Senate Judiciary Subcommittee on the Constitution. In 1997, President Bill Clinton appointed Dean Trasviña special counsel for immigration-related unfair employment practices. In that capacity, he led the only federal government office devoted solely to immigrant workplace rights and was the highest ranking Latino attorney at the U.S. Department of Justice.
Dean Trasviña previously taught immigration law at Stanford Law School and was director of the Discrimination Research Center in Berkeley. He was a member of the San Francisco Elections Commission and ABA Commission on Immigration, president of the Harvard Club of San Francisco, and a board member of the La Raza Lawyers Association, Latino Issues Forum, Campaign for College Opportunity, Lowell High School Alumni Association, and Conference on Asian Pacific American Leadership.
---
Eric Wright, Santa Clara University School of Law
Eric Wright graduated from Stanford Law School in 1967, where, as a student, he helped to found the initial East Palo Alto Community Law Project.  After a clerkship on the Ninth Circuit, and a Fulbright Fellowship at the London School of Economics (studying the English Legal Aid Scheme), Eric worked at San Mateo County Legal Aid as a Reginald Heber Smith Fellow.  In 1971, Eric came to Santa Clara Law School and has been teaching there ever since (with about a dozen visits to Stanford Law School as a Visiting Professor).  While at Santa Clara, Eric's three greatest passions have been teaching, handling pro bono cases and helping to develop programs to encourage students to provide services for underrepresented clients and causes.  Eric, and his wife, Professor Nancy Wright, helped to found and were the initial co-directors of what is now the Alexander Law Center.  There were also the co-founders and initial co-directors of the Center for Social Justice and Public Service at Santa Clara.  They were the founders of the Trina Grillo Retreat and organized and ran the first five retreats. For many years, both Eric and Nancy have taught a course on Public Interest Practice in which they encourage students to develop real life, needed projects for underserved communities and issues.
Throughout his career, Eric has provided pro bono services on a variety of issues from jail conditions, to fair housing, to consumer cases.  He has received a number of awards for his pro bono efforts, including one from the State Bar of California.  Moreover, he received a Public Interest and Social Justice Recognition Award at the Public Interest and Social Justice Law Celebration and Graduation Ceremony in June of2010.
Eric served four terms on the California Commission on Access to Justice and is currently serving as an ex officio member.  He has served on the Executive Committee of the Commission as well as the Right to Counsel and, currently, the Administrative Agency Subcommittee.  He is also an active member of the National Coalition for a Right to Civil Counsel.  In addition, he is on the Board of the Watsonville Law Center, serving on its Executive Committee.   He co-counsels, on a pro bono basis, consumer cases for the Katharine and George Alexander Community Law Center and has helped to secure several cy pres awards for the Center.
---
Nancy Wright, Santa Clara University School of Law
Professor Nancy Wright is well known for her interest and involvement in social justice organizations in the local community, and she often does pro bono work in consumer protection and prisoner's and children's rights. After joining Santa Clara University School of Law's faculty in 1984, she served as placement director for five years, and in 1990, she became director of the first-year Legal Analysis, Research and Writing Program. She has co-directed Santa Clara Law's summer programs in Tokyo, Hong Kong, Oxford, Geneva/Strasbourg, and Sydney. In addition, she has served as co-project director of the Katharine and George Alexander Community Law Center.
Prior to joining Santa Clara University School of Law, Wright spent three years as a teaching fellow and lecturer-in-law at Stanford Law School, teaching Public Interest Representation and Moot Court, and coordinating Stanford's externship program. Before earning her J.D., she spent six years working as a juvenile probation officer dealing primarily with dependent and delinquent youngsters in foster-home placements.
Details
Start:

March 20, 2015 @ 9:00 am

End:

March 21, 2015 @ 5:00 pm

Event Categories:
Venue
500 El Camino Real




Santa Clara

,

CA

95053

United States

+ Google Map

Website: